Store Setup Wizard Shopping Carts

Use the Next Topic and Previous Topic arrows,

and

,  in the Navigation Pane of the Knowledge Base to read the topics about the Store Setup Wizard in sequence. (The buttons are actually white on the black background of the Navigation Pane.)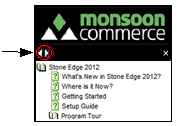 Contents of this Topic: ShowHide
Overview
This section of the Store Setup Wizard focuses on the settings related to shopping cart an e-commerce software system that allows a retailer to sell products on the Web. In the context of Monsoon OMS, it refers to the settings that describe a merchant's web store to the program, allowing it communicate with the online shopping cart and import orders and other information systems.

There are two pages in this section, the first one is where shopping cart systems are defined in the program.

 The second page pertains to any special settings that are unique to a particular shopping cart system.

Each of the shopping cart systems may have slightly different instructions for setting them up. Refer to the Knowledge Base topic for the particular shopping cart system that is being defined for more specific directions. The articles can be found in the Third Party Products or Services book.
Description of Page 1 of the Shopping Carts Section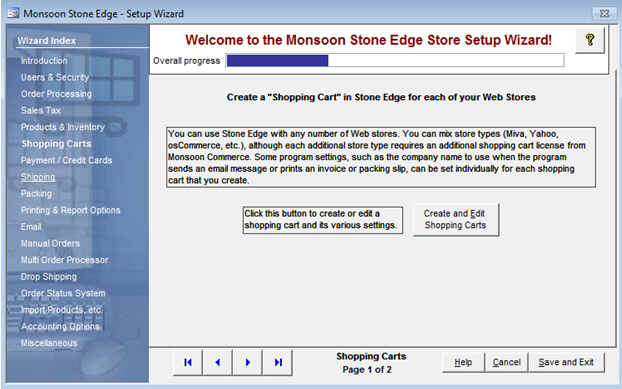 Figure 1: Store Setup Wizard - Shopping Carts section, Page 1 Create the Shopping Cart Definition
Create and Edit Shopping Carts Button
click this button to open the Shopping Carts screen synonymous with the Microsoft Access Form object or graphical user interface (GUI) and enter the pertinent data for the shopping cart that is being defined

in order to perform this activity, refer to the Knowledge Base page for the Shopping Carts screen, as well as the specific Knowledge Base page for setting up the particular type of shopping cart
Description of Page 2 of the Shopping Carts Section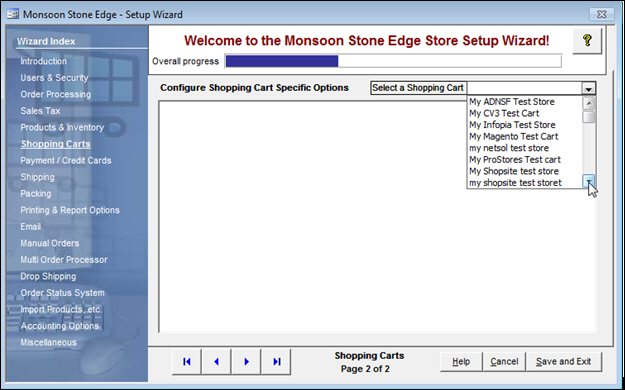 Figure 2: Store Setup Wizard - Shopping Cart, Page 2 Special Settings
Select a Shopping Cart Drop-down List
if the shopping cart that is being defined has any special settings that need to be configured at this screen, they will become visible after selecting the cart type from the drop-down list in the upper right-hand corner of the screen

any applicable fields will then be seen in the Configure Shopping Cart Specific Options section of the screen
Configure Shopping Cart Specific Options
make the appropriate selections in the additional fields, some of which require the purchase of an additional third-party subscription or module

Miva Merchant is an example of a shopping cart that makes use of additional settings, as seen in Figure 3

many shopping cart systems do not require any of additional settings outside of those that are specified in the Shopping Carts screen

if a message box appears, stating that there are no special settings for the cart type, simply click [OK] and proceed to the next section of the Wizard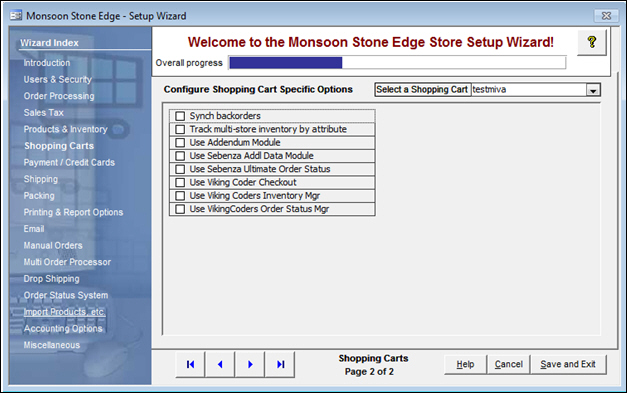 Figure 3: Store Setup Wizard - Shopping Carts, Page 2 showing Miva Merchant Special Settings
Navigational Arrows
use these buttons to scroll sequentially between the pages of the Store Setup Wizard

use the links in the Wizard Index pane on the left-hand side of the screen to skip between sections of the Wizard
Wizard Section and Page Numbers
the name of the Wizard section and page number can be found between the Navigational Arrows and the Help, Cancel and Save and Exit buttons at the bottom center section of the screen

sections that have many settings will have more than one page in the Wizard; be sure to review them all
Help Button
Cancel Button
causes the program to prompt for confirmation before exiting the Store Setup Wizard

click Yes to save the changes before exiting the wizard

click No to abandon the changes and exit the wizard  

click Cancel to remain at the Store Setup Wizard and continue making changes
Save and Exit Button
click this button to save all changes made before exiting the

Store Setup Wizard
Additional Information
Created: 4/21/11
Revised: 9/5/12
Published: 04/13/16