Store Setup Wizard Import Products, etc.

Use the Next Topic and Previous Topic arrows,

and

,  in the Navigation Pane of the Knowledge Base to read the topics about the Store Setup Wizard in sequence. (The buttons are actually white on the black background of the Navigation Pane.)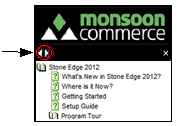 Contents of this Topic: ShowHide
Overview
The Import Products, etc. section of the Store Setup Wizard is where the user can import their inventory, customers, or old orders.

Some shopping cart an e-commerce software system that allows a retailer to sell products on the Web. In the context of Monsoon OMS, it refers to the settings that describe a merchant's web store to the program, allowing it communicate with the online shopping cart and import orders and other information systems allow the user to import this information directly from the Web site, while others only supply that information in text file form.

Product and customer records can also be imported from QuickBooks, either directly from the application or from an .IIF  text file.

SEOM is able to import almost every kind of data from a text file except order data. The Import My Inventory screen synonymous with the Microsoft Access Form object or graphical user interface (GUI) is opened via Main Menu>Manage My Inventory>Import My Inventory.

To import order information from a text file at the Import Orders screen, the data must have been exported by the shopping cart system in the proprietary format SEOM recognizes. Otherwise, it is necessary to purchase a Generic Shopping Cart a shopping cart for which Monsoon Commerce does not provide built-in support. It is possible for a retailer to purchase a Generic Shopping Cart license from Monsoon Commerce in order to import orders, etc. into Monsoon OMS from such a cart, but the merchant or a third party programmer has to set up the actual integration themselves. Monsoon Commerce provides a Developer's Guide that contains the necessary program specifications to accomplish that task. A generic shopping cart may also be referred to as a "custom" shopping cart. license to import order information from a text file.

Supplier vendor information can be associated with inventory products while they are imported. Use the Import My Inventory screen to import a large number of supplier records from a text file.
Description of Page 1 of the Import Products, etc. Section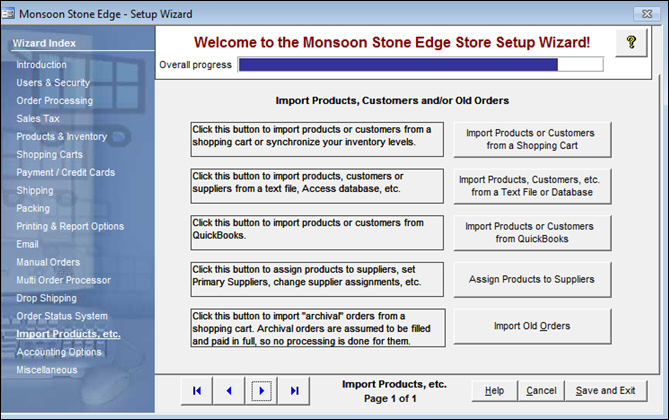 Figure 1: Store Setup Wizard, Import Products, etc., Page 1
Import Products or Customers from a Shopping Cart
click this button to open the Shopping Cart Functions screen and import customer or product information, which depends on the capabilities of the shopping cart system in use

if the shopping cart does not support a particular function it will be grayed out, or not visible  
Import Products, Customers, etc. from a Text File or Database
this button opens the Import Data from Other Sources screen where the user import data from a text file by mapping data fields in a text file to the appropriate data fields within

SEOM
Import Products or Customers from QuickBooks
opens the Import from Quick Books Screen (Import Data from Quick Books); refer to the Knowledge Base topic in the previous link for more information
Assign Products to Suppliers
opens the Change Suppliers screen, where the user constructs a list of inventory items and assigns them to a particular supplier or designates the primary supplier of the product, if more than one vendor provides that item
Import Old Orders
Navigational Arrows
use these buttons to scroll sequentially between the pages of the Store Setup Wizard

use the links in the Wizard Index pane on the left-hand side of the screen to skip between sections of the Wizard
Wizard Section and Page Numbers
the name of the Wizard section and page number can be found between the Navigational Arrows and the Help, Cancel and Save and Exit buttons at the bottom center section of the screen

sections that have many settings will have more than one page in the Wizard; be sure to review them all
Help Button
Cancel Button
causes the program to prompt for confirmation before exiting the Store Setup Wizard

click Yes to save the changes before exiting the wizard

click No to abandon the changes and exit the wizard  

click Cancel to remain at the Store Setup Wizard and continue making changes
Save and Exit Button
click this button to save all changes made before exiting the

Store Setup Wizard
Additional Information
Created: 5/13/11
Revised: 9/4/12
Published: 04/13/16